Angry Reactions
From The Bad Webcomics Wiki
Jump to navigation
Jump to search
So you got a review on the Bad Webcomics Wiki... What to do now? Should you take the criticism to heart and try sucking less? Should you maybe delete your horrible mutation off the face of the internet so that it can't hurt anybody anymore? Maybe just cry and kill yourself. Those are all valid choices of things to do when you find a review of your comic on this site. But why do any of that when you can bitch and whine about it?
Over time we have received a number poorly worded retorts from webcomic artists who were displeased with their reviews. These range from long, dramatic walls of text telling us we don't know what we are talking about and that there is nothing wrong with writing a comic about the beautiful love that can be had between a man and his rape victim, to short, sarcastic comments written on tear-soaked keyboards about how little the artist care about our review and the quality of their own comic. Attempts to vandalize, delete or re-edit reviews more favorably behind our back have been made. As well as angry response comics, attempts to hack, redirection of links from our site and attempts to mobilize the comic's fanbase into a personal army attack on us that have all but failed. We even got one death threat! A tactic that has rarely ever been attempted is simply asking us to delete the review and explaining why you don't think you deserve it. It has rarely been attempted probably because it would usually also fail.
Few of our reviews ever get deleted. Those that do are, more often than not, simply bad to begin with and have little to nothing to do with how their target feels about them. However, doing any of the things listed above will not hail any results besides us laughing at you even harder and getting you added to this little hall of shame.
And remember: Calling us trolls automatically invalidates any criticism of your comic and magically fixes all of its flaws (not that it has any).
One day, a new member came to the BWW called hans17. In a fit of non-thinking, he wrote a shitty three-paragraph review of Addanac City. While he banged his head on the wall trying to figure what to do, help was called to fix this stain on the site. In the meantime, George Ford, creator of the comic, found out about it, and motivated by recent negative comments on his site and the BWW, decided the most civil thing would be to feign amusement at the situation:

Click for blog post

The Earth kept spinning, the wind kept blowing, the comic kept sucking, and the review kept developing. Nothing happened. However, energized by the strokes of approval of his fanbase, Ford kept shouting rubbish about his supposed posse of haters. He even made a comic mocking his invisible, obsessive enemies.

Sorry Ford, we don't have such fragile feelings. He didn't stop there, though. As a final hit of idiocy, the comic came with this lulzworthy comment, where he finally questions the motives of his imaginary hater squad, and even pulls a JDR.

Click for Ford's meltdown

Against this, there were two different attitudes in the BWW. One was to shrug it off and move along. The other was to freak out and make the two shittiest comics ever on DrunkDuck. Hans17 did two terrible parodies of Addanac City and the Jonas Brothers (we assume he hated them too), and he even tried to make us review them officially on the wiki. He was banned with no remorse.
So someone informed us that Nicholas has written a response to his review a while ago. Which is strange because I periodically look for them on Google and have never seen his. Which makes him implying our site is too obscure for him to notice all the more funny.
In his reply he tries to save face by painting the person who reviewed him as an insane stalker, threatening him and then stalking him back.
I'll just let you guys read it for yourself.
Read and enjoy
FYI: I am typing this as I hide in the bushes and watch Nicholas with my binoculars.

UPDATE
I have recently acquired the password to our old email address that remained unchanged for months before we realized we lost the password. There I found a second Email by this guy accusing us of stalking him.
Read and enjoy

So now that I have refused his request I will forever live in fear of the day he gets revenge on me by posting the url of my DeviantArt account on his journal.
A few days after a thread was posted (here is the thread in question, if you want to read more) about the comic, the artist's husband showed up on the forum. He argued with everyone, got called out on not revealing straight away who he was, offhandedly insulted a few other webcomic artists, complained about how everyone on Something Awful hates him and his wife, and left.
About a year after this charming display, a review was posted. This time he was back eight hours after it was up with a counter review. This time, he disclosed who he was upfront (too little, too late) and went on to tell us how the review was shallow and insufficient, and giving us a list of flaws in his own comic to comment on, my favorite of which being:


jokes about the idiots in the comment section who crave the worst of the story and want to fuck Lucy.

That is him talking about his fans...
Finally, the review was completely rewritten. The comic's actual creator now refuses to comment on it, so she must be very grateful to her husband for all his help.
Oliver's encore before leaving was commenting on one thread to insult The Oatmeal and tell us that we should write a review. And on another thread to call the creator of the webcomic "Love Me Nice" a bitch (they had a personal dispute years ago).
He still continues to claim that their lack of friends in the webcomic community has nothing to do with his people skills.
"Midgear" found his review and did not like it one bit.
Inside: Things no one cares about.
The comic didn't last long after that. The author stopped updating for a while, then left a note on the front page telling everyone who is complaining that he never updates to fuck off, then didn't update for a while longer and finally just deleted the whole thing.
Reaction to reading USAC
The creator of U.S Angel Corps, Dave Cheung, has a history of poorly handling criticism. In the past, he had tried to vandalize the John Solomon article on Encyclopedia Dramatica where he is mentioned after he had made claims to not caring about being reviewed on his blog. Later he snapped at the owner of the Webcomic Overlook for saying he deserved that review and, finally, the article about U.S Angel Corps on TV Tropes was deleted and it is safe to assume it was due to complaints made by him.
With our site he had a real drama. Back when we were on Wikidot and soon after a review of USAC was added to the index, suddenly all reviews of Dave's comics were removed for ToS violations. Since Dave has a track record of doing this sort of thing, and since we can't think of anyone else who would have any motivation to defend Dave Cheung's reputation besides Dave Cheung himself, we believe Dave was the only person smart enough to complain to the actual administration of Wikidot instead of doing what most people did, which was sending abuse reports directly on the wiki which our admins would read, laugh at, and ignore.
To remedy this, after BWW was shut down on Wikidot and before moving to this new host, we contacted the owner of ShoutWiki to make sure these kinds of problems would not repeat themselves. As a special precaution, admin oddguy contacted them again prior to restoring these reviews to inform them that Dave will inevitably contact them to make fictitious threats of litigation and was assured that it should not be a problem.
So for now the reviews will stay where they are and we eagerly await Dave's return. In case the reviews ever do get deleted again, there are multiple copies of every single one readily available in the links at the bottom of his Encyclopedia Dramatica article.
Recently we had rewritten the review of this comic that was lost that one time the site got fucked up. But after it was written it became apparent that the new review did not match the old one. A quick search uncovered that most of the comic's archives have been deleted. But it also turned up... this thing...
It seems Mr. Fraser was displeased with the original review (probably part of the reason he deleted the evidence) and sent the author an email to refute it tell her off cry and beg us to pity him.
(Spelling and grammatical errors highlighted by me)
Get ready for a sob story

Then he wiped his tears away, pointed his nose skywards and went back to butchering the English language using furry porn while his child starves in the next room.
UPDATE:
On a lark, I went to Andrew Fraser's DeviantART page and commented to him that for the last page of Bridgette's Belly, he should have Bridgette eat a wafer-thin mint a la Mr. Creosote in the Monty Python movie The Meaning Of Life. His response was to hide my comment and block me. Long Tom.
ADDITIONAL ADDITION:
Don't worry, Tom. I'll do it for you. SpazzticBunnyhood.

SECOND UPDATE:
If Andrew Fraser learns about the review of his other webcomic, we can guess what his reaction will be:
On a thread discussing us being bullies, the author of this comic offered his humble opinion:
Click for blog post
Regarding the second part of that comment: We do not support or condone this. That review was the only review this person has written and was he was probably an idiot driven by some personal grudge. Nonetheless, the comic is still bad so we are not going to remove it.
We ask that nobody goes trolling webcomic artists on our behalf.
The Collar 6 article, despite being about a niche comic with a small audience, created a surprisingly large amount of crying. It began in this thread with non-BWW-members leaping to the comic's defense.
You heard him folks, a seizure-inducingly colored mock-anime bondage webcomic is both ambitious and an endeavor, and everyone who thinks otherwise is jealous, immature, fat, apparently lesbian, and a failure at life.
The sobbing quickly spread over to the website of Collar 6 itself when, on September 22, 2009, one of the creators uploaded this blog post:
Click for blog post

The post has since been deleted from the site, unfortunately before anyone thought to screencap it, but rest assured that every comment made on it by fans was a loving, gentle pat to the writer's bruised ego.
Later, the webcomic site would have the following disclaimer posted:
DISCLAIMER for the insanely stupid: This is a BDSM comic based in a FANTASY setting. None of the actions portrayed in this comic are meant for instructional purposes in BDSM. It is STRONGLY suggested you do factual research in the BDSM lifestyle before engaging in BDSM activities.
Whether this came about because of the article here on the BWW or not is anyone's guess.
There isn't much to say about us and this comic. His forum got super mad at us making that review and one particularly crazy fan got into a drawn out slap-fight with us that has been archived in "Concession fan reply" instead of this page. As for Immelmann himself, a long time after someone made another thread about this review where commented:
This is old news. The forum and I have a history with the BWW, and by now they're not really worth any of your time or energy.
Immy doesn't love us anymore.
</3

This was originally in our irregular section because we thought the actual response was lost. Recently we found it and boy is it good.
The creator of this comic actually wrote a review of our review!
It's too long to respond to but I've added a screencap of it.
Click to read

To give him some credit, he didn't take it as bad as some and acknowledged some of his own flaws. But it's still a really dumb way to respond.

This reaction is going to be presented a little differently than most. Instead of going through what this person said line by line and mocking it, this one will just be an exchange of our correspondence. Also, I wouldn't exactly categorize this response as angry, but it sure as hell not good enough the excuse the horrible webcomic that is was made for.
So, about two months ago I checked our old forum looking for something and noticed someone made a new post (something that happens from time to time with people who don't realized we've moved). I checked the post and saw that it was Drowemos who left the following note:
A number of things in this article are inaccurate. I just wondered if you'd be interested in my clarifying a few things or not? I don't want to intrude or criticize, just there are some things the author could not have know that led him to incorrect assumptions. It's been a while since I worked on Exiern now and I have the distance and freedom to talk about things I could not say at the time.

Expecting something else (the response I got was ultimately disappointing) I tracked him down and sent him an email which I have mistakenly deleted in which I ask him to explain. To it, this was his response:
Click for email

After waiting a couple of weeks I have yet to get a reply from him and doubt I ever will. Therefore, as promised, I am posting our exchange here without further insults to which he can't reply and leave you all to draw your own conclusions. If at any point I receive word from him again I will add it here as well.
UPDATE
A few moths after this, the new owner of the comic sent me this Email:
Click for other email
POSTSCRIPT (by Shan)
Firstly, a clarification - the new owner mentioned above (Thomas Knapp) was a new writer hired by the new owner (Scott Hicken) who later took over also writing Exiern a couple of years later in 2014.
So, in 2015, Essaymod who hosts a webcomic review site called The Webcomic Review here ended up applying for a webcomic job with Drowemos but happened to do this as part of his application as posted on a thread about about Drowemos.
Read the whole thread here
Then Drowemos dropped in and he and I had a nice chat, though oddguy was a bit perplexed by this turn of events.
I have no idea what's going on right now
I think Essaymod forgot he had this earlier conversation because he posted in 2016 all incognito like about the same webcomic (the now defunct Legend of the Hare) and asked us what we thought. I rumbled him and asked if it would help if we pretended we didn't know who he was, the thread was deleted and we tried again here.
Then oddguy possibly forgot he had that previous conversation (where he complemented Essaymod on his website no less) and challenged him to a fight in seemingly a case of mistaken identity.
Anyway, the takeaway here is Drowemos did come back and in effect follow up on his previous correspondence, he and I made some small talk and discussion on the forum and there's been some email correspondence as well later on. He said to me that he could have expressed things and done better in the past and he's moved on from all of that which seems to be evidenced by a complete lack of any drama or animosity whatsoever in his visit to the forums.
So, all's well that ends well I guess?
Though your mileage may vary on Exiern still running for its 13th year in 2018.
2021 Update (by Shan)
Exiern is still running for its 16th year in 2021.
In 2021, Scott T. Hicken sold the entirety of Exiern to Bad Webcomics Wiki member Shan who took over the running of Exiern as of the 1st of January 2021 for the sum of $1.

Someone posted a link to our review on Kukuruyo's DA page (why do people keep doing that?) and his response was so stupid and poorly worded that I didn't even plan on including it here.
Yeah, a SJW tried to use them as his personal army, and one of them got offended enought by me saying that they are a hate page to actually fullfil the SJW wish and serve as his personal army xD. I care shit anyways. BWW is a hate page, they just make troll reviews spouting hate of every comic they find. And if it they weren't, GG life is nothing by any means serious.
As you can see, he flip-flops between claiming he trolled us, the SJWs trolled us and calling us trolls. So why am I adding this anyway if I said it isn't even worth adding? Because it later turned out that this wasn't the end of it. One of our Spanish speaking fans found a post on his Facebook, that we overlooked due to language barriers, which he kindly translated for us.
No one should care about anything the BWW reviews. They are literally a hate site, they do troll reviews in which they just throw nonsensical stuff in a flaming way of exaggerating dumb crap. They don't do reviews of bad webcomics, they do reviews of ALL THE WEBCOMICS on the internet and they paint them as horrible and they try to stop their artists from drawing even again. Fuck, I think their motto was something like "we review comics thought our hatred". Either way, "GamerGate Life" is not a serious comic so I couldn't care less.
So (obviously) Kukuruyo totally trolled us and is super not butthurt. He also thinks we reviewed all the comics on the internet and doesn't care about his own comic... but still sucks GG's dick for tshirt money.
Before I wasn't sure if this guy was a con artist or an idiot, but now I'm sure he's both.
MoonLover left his fans a note regarding us in the comic's comments.
Butthurt imminent.

After making this brave stand against us, he abandoned his comic and started a new comic... his twenty third comic! Does this guy not have a job?
On a final note, I just want you to know that out of all of his twenty-three comics, "God's Story" is not even the worst. He has another one literally named "Mr. Pedo".
Upon discovering the article for his webcomic, Charlie Alexander Luna gave this wonderful message to our friendly neighborhood reviewer, Norad Bush:
Click for the tastefully written response

Not being satisfied with throwing moronic threats around like a thirteen-year-old listening to his first rap album, Urashima/Luna/whatever set up a troll account to a) threaten the article's other author, and b) circumvent his permaban imposed by the Las Tittas forum's admins who are still upset by his batshit insanity.
Click for screencap

Let's hope the little fella doesn't chase any of our reviewers down any dark alleyways with a plastic cosplay katana any time soon.
After reading the review, Thomas Fay had this to say:
I.M. Hip got a bad review by the Bad Web comics Wiki. He has a lot of errors: Mr. Albany appeared earlier than November 5th, and breasts are not so important for me, because my drawing technique is freehand. Sorry, but that's the way it is.
After making this somewhat spiteful reply, he actually went on to try to improve the comic. He first fixed some of the errors that were sited in the article, then he asked his readers for advice, and finally he shut down the website and moved the comic to his DA gallery.
Soon after our own review, The Webcomic Overlook wrote one of their own. Catya did not like that one bit. And why would she? She got a well deserved 1/5 stars, and reacted in the same manner that all bad webcomic artists, and her in particular, are famous for. I.E: had a massive meltdown in the comment section, drew and angry response comic, wrote a disingenuous apology and removed the comic... but only after waiting a few months.
During the aforementioned meltdown, she was confronted with the other review of her comic and asked to comment. At that time we had a short, but meaningful exchange:
So, as you can tell, anyone calling her comic bad, or telling her that she should improve, is nothing but a big, nasty troll.
On behalf of the BWW I would just like to say:
;_;

UPDATE:
Katya explained she was just angry because someone was harassing her online. Check the review's new bio section for further detail.
Several years after the review was written, the author posted this series of tweets:
it's just so bad, and it's obvious that a 6th grader wrote it, because, it makes, no sense, and i love it so much
my favorite thing is that way before @cymrin and I met, they saw this comic and it taught them that "not all things have to be good"?? i'm
what a special connection, this is cutie mark chronicles shit up in here, no one tell @cymrin what that means
also about this sprite comic is that. it made someone on the internet SO MAD that they not only wrote about it on the Bad Webcomics Wiki,
they wrote a Massive 4000 word blog post describing how every strip of the comic made them wanna claw out their eyes
i fucking love this blog post so much, i'm Powerful, i made someone on the internet care about something i did So Much
they also called me homophobic and racist several times while also saying things that were way more questionable than anything I did
Presented without comment.
On May 16, 2009, the entire review for 'Least I Could Do' was deleted and replaced by this message:


You should all be ashamed of yourselves, having nothing better to do than to attack people's intellectual property. Why don't you go to the mall and cry over Twilight or something?

Not only does it tell the writers of the BWW that we oughta be ashamed of ourselves for such awful behavior (honestly, what would our mothers say!), but it also implies that we are teenage girls who enjoy going to the mall and reading Twilight. All that's missing is a comment about us all living in their parents' basements and it would have won the grand prize!
Fortunately, BWW user Norad Bush had the good sense to keep a backup of the article and everything was restored without hassle.
Some time later he made a plotline in the comic called "Haters Gonna Hate" about people who make fun of him. In it, he makes a pathetic attempt to make people feel sorry for him by making the little girl in his comic cry because she read mean things about him on the internet. But since the little girl just looks like like the main character's head on top of a little girls body, this only reminds everyone the only person Shomer cares about is himself.
After some time looking, I was unable to find any significant criticism of this comic other than ours prior to him this series of strips, and since we knows he knows about our review and hates it, it's safe to say that comic was about us.
Tim Lai left a very passive-agressive post on his Twitter about it several years after it was written:
When Lemon Inc. was reviewed in the Bad Webcomics Wiki I wouldn't really say I took it badly but I was very dismissive of it because so much of it missed the point of the comic and was actively insulting. But there were a couple of really valid criticisms in there.
Ironically, given that the language used in the review was very intentionally offensive the most valid criticisms were relating to somewhat insensitive jokes. I saw those jokes as satire but ultimately they were perpetuating the things they were satiring.
A lot of this stuff was picked up by media which influenced me such as The Office, Simpsons, Family Guy, Spongebob etc. This isn't to excuse these mistakes but I try to be more aware of the way the media I consume influences my writing now.
What I still feel the review is VERY wrong about: Andy is NOT a Mary-Sue at all. I wouldn't even care if he was because I think that's a valid way to write and it would be less cringe-worthy than the valid criticisms. But he is nothing like me and I do not aspire to be like him.
While I'm glad Tim recognizes his old comic sucked and can see his own flaws, it also quickly contradicts itself by dismissing us as haters. Make of that what you will.
When writer Joeby Gibson discovered his comic was spotlighted on the BWW, he at first seemed to take it like a good sport.
Glad I could make it to the badwebcomics page and read your thoughts on Lethal. Very insightful and well thought out. I've taken the liberty and posted a link from my twitter account as any press is good press. Thanks again for critiquing with a somewhat open mind and being honest. Keep up the great work!

But when the members in the forums began to question Gibson's motives as being purely attention-seeking, the butthurt began. Twitter-style.
Click for the Twitter bitch fest and responses from our own Nightgoat

Overall, Gibson did nothing but show all members of the BWW what a bitching, moaning crybaby he is. The lesson learned? The best way to respond to criticism: don't.
The creator of "Lovefeast" opened this thread on the "Top Webcomic List" forums to complain about being reviewed.
Here is what she had to say:

From then on the thread devolved into a massive circlejerk, where they continued to tell one another that we are all trolls, who only write reviews because we are jealous that our own comics about gay girly-boys with horribly misshapen bodies are not as good as their's. And we were also hilariously white knighted by Ace Plughead and William Greggory, in a display I have no other way to describe but "cute". Although, I am not sure if at the time Greggory was already featured on this site.
The comic itself, which at the time of the review only contained 24 pages, only reached 46 before stopping it's updates indefinitely in 2010. We can't know for sure if this did or did not have anything to do with our review helping the creator to realize this comic is not worth continuing, but we can only hope.
One way or another: Good riddance.
So far, the response has been limited to a sad attempt at combining a self-affirmation with a rebuttal on tumblr to an anon saying we had a point:
Come back when you have something constructive to say. The internet doesn't need another rude anonymous troll shouting at people about a comic they could have more easily just stopped reading without sending notes like this. I wonder why it's so important you let me you know you don't like my work in such a way. Do you not see me as a person? It is much easier to be cruel? Whatever the case, it's a shame. I feel bad for you. I'm going to continue creating because this shit doesn't bring me down. Thanks!
The review was crap and was deleted but the response is still hilarious
Rooting around google we found a really old post on some comic we never heard of about a review we didn't know existed. The creator first pointed out he noticed there was an empty review page about his comic, and when that caused whoever wrote it to try and continue it he wrote a review of the review on his blog. Finally, whoever wrote the original thing just deleted it and was never heard from again and the blog posted a final victory note.
Two years later we found the blog buried somewhere deep within a google search and it mentions getting a massive spike in traffic from that one line review. So to call this comic unimportant would be an understatement. In truth, the review itself was pretty crappy. We have no idea who wrote that article or why. The person who did it did not post on the forum to ask anyone if he should write a review of the comic and quit soon after changing his mind. However, the comic is, in fact, bad.
What's worse than an author who can't take criticism? When the author's fans lick his boots. Several months after our review of Original Life was posted, Naylor posted an entry on his Livejournal account called "The Kind of Fan Mail I Love". He posted what is apparently a reproduction of a fan letter slamming us.
For the most part we don't concern ourselves with fan reactions. In part because almost every review we write brings about a river of tears on the comics respective forum, and in part because it's simply beneath us. But, seeing as how Naylor himself reposted this thing, it makes it a special case.
The entry reads as follows:
Get some coffee. This is long, boring, and poorly written.

By the way, we're not withholding the name on the letter. Naylor is.
Let's ignore the fact that this letter doesn't go into enough detail to explain why the review is unjustified and move on to the really big problem: there's no undeniable proof that this is a genuine fan letter. For all we know, this could be a fabrication written by Naylor to spite us. Maybe it is real, but faking it just seems like the kind of thing he would do.
I particularly like the line, "turning away many prospective readers without even giving them a chance to read for themselves," as if to suggest that we don't provide links to the comics we review, or that we actively prevent people from reading them somehow.

About five fucking years after the review was posted, Luke Page decided to respond to it after spending all that time simmering in rage. In his response he explains that he knew our old reviewer Lesbot and melodramatically tells the tale of how she forever ruined his love of art by being pure evil. What he says is so stupid I didn't feel the need to add commentary.
Name withheld and hilarious insults/pathetic whining highlighted by me.
How a webcomic review ruined a man's life
I know some might say it's bad form to write reviews about people you know in real life, but I'm not against it. This isn't the first time I saw someone who met some incompetent artist and became so frustrated with trying to make them less like shit that they ended up either writing a review about them or asking us to do it. If anything, unlike other reviews, where we have to speculate about the author's personality, here we have a first hand account. Not that there is a need for it because Luke pretty much admitted to everything said about him in that review. He demonstrated that he's really a twat with this very response, he proved he can't draw and won't improve by the fact that the last page he ever posted looked exactly as bad as the first and then demonstrated that he gives needlessly personal information in these comics by that same page containing a drawing of himself fucking his girlfriend.
If this review made you quit making webcomics I am fucking glad.

We had quite a bit of fun with the reaction to this review.
Boo hoo hoo...
Usually we decorate these things with our snarky commentary, but this man's responses are so damn stupid I don't even see a point to it.
After declaring his own victory he tried to fight off dissenters by anonymously replying to people on his own chatroom/shoutbox and having an immature slapfight with them which only resulted in a massive spam/flame-war. Just to be clear: we did not participate nor did we encourage anyone to spam, flood or invade people on our behalf. This somehow just happened on its own. He followed up this victory by not posting anything for a month and a half.
But just as we thought he was dead and gone he returned to make one last reply to us which sadly was not properly archived by the wayback machine. We no longer have contact with the people involved to ask them, but from the replies it seems possible he might have even drawn a comic about us.
But all good things must end and he finally came to his senses and left us this final apology:


Don't feel sorry for him just yet; read on.
After that the comic remained inactive for a while before finally going offline.
Rot in peace, you trash heap.
Finally, he revived the comic yet again. And if you think he learned a single thing or that his apology was at all sincere, then you must be new to this site. The new comic was just as bad as the old one, and when the reincarnation of his abomination got another bad review he responded by pretty much telling the person who made it "lol thanks for the pageviews!" more or less.

So, while checking to see if anyone has ever mentioned us on twitter, I ran across a couple of tweets by the infamous Gibson Twist.

He describes our review of his comic as "More than a little racist" because it commented how he draws all people of all races the same, save for a small change in hue. Which begs the question, what does that make him? Since he's the one who drew them like that.

A few days ago I got an urgent Email from the shoutwiki administration that they have received a complaint that we are libeling and infringing upon someone's copyrights. At first I assumed it was Dave Cheung, having recently re-added his reviews to the site, but when I asked for clarification I was told that the reviews in question were those of "Romantically Apocalyptic", "Niels" and "So... You're a Cartoonist?". I thought this was then the work of Humon or Tom Preston, but the name of the complainer didn't ring any bells.
It was Vitaly S. Alexius' wife!!!
Usually this is a section for complaints by the actual author, but this time I figured: "Close enough".
The admin that contacted me informed me that he had asked for specific examples and, since I have yet to receive any new word on the matter, I assume they have yet to get them. He also pointed me to a usable version of the template Wikipedia uses to qualify its own copyrighted material as fair use that we could also use in this case so that we didn't have to delete anything.
Also, there was no libel in any of those reviews and if there was it would be easy to fix that without deleting the entire review, which is what I believe this complaint was a pathetic attempt to get us to do.
Maybe she should stick to posting naked pictures of herself online and leave the thinking to someone else.
UPDATE
I guess the email didn't work because a few days later someone left us this eloquent response in the form of an abuse report-

At first I believed it was his wife again, but Alex claims it isn't her or anyone related to him. However, since he has a history making anything that reflects badly on him disappear (including trying to get this review removed) I seriously doubt he would admit to it if it was.
I leave you to draw your own conclusion.

UPDATE 2
Still not satisfied, they redirected one of the links on the review to another page containing their retort... I guess they didn't know how to redirect traffic or something. So now I suppose I have to write a response to the response.


It took 7 people to write this. Apparently.


So in the end all this response has done is help me understand how seven people can come up with a comic that's half of a person worth of work. Because they share half a person's worth of brain.
BUT WAIT A MINUTE!

There is something wrong with this response... I remember seeing this page at least a month ago and there was something different... Has Alex deleted something he wanted to hide again? Maybe "Web Archive" has the answer!
Let's look at and respond to some of the deleted versions of this page.
Hide, delete, don't respond
Anyway, I updated the parts of the review where I must admit there were factual mistakes and I can't wait for his next attempt to get rid of us.
In closing:
 
 

—Alexander Gromov AKA "Vitaly S. Alexius"
Soon after we commented on his comic being shut down, Joshua took a break from jerking off to try and save some dignity by having the last word (forgetting that he can't because WE have a website).
Click if you are ready for extreme levels of passive aggressiveness.

With that, he finished his journal and went back to drawing porno.
It is a truly sad thing that we kind of jumped the gun with this review, because soon after it was finished, more embarrassing things happened to or were discovered about this person. One of his gay porno drawings (which he still claims are not gay) was featured on the front page of the Rule34 website, his main character was discovered to be plagiarized and it was found out that he and his brother draw pictures of penises together (incest? I can't prove it, but no one can blame you for being suspicious).
But it's not all bad, Joshua. You should take pride in being one of the few artists to stop making their comic when they realize it's bad. If only you could also stop being so mad about it, you could maybe get started on the road towards improvement.
UPDATE:
Recently he posted a journal on his DeviantArt account responding to our response. Sadly you will not be able to read this hilarious denial by a documented lier because he deleted it 9 hours later! Instead, he posted a second journal that said this:
Besides the hilarity of a man in his late twenties quoting a children's book and thinking it is deep and inspirational, what is more funny is the reason why he actually deleted that journal. I was able to catch a glimpse of the journal before it was gone, and, more importantly, the comment section. There I noticed one of his aforementioned fans begging him not to rile ED and BWW because it puts his fans in danger.
What a bunch of chicken-shits.

The creators of Sandra and Woo demonstrated their maturity and ability to handle criticism by temporarily redirecting all traffic from Bad Webcomics Wiki to a favorable review on NotMadComic.com so none of the links in our review would work anymore.
LA, LA, LA, I won't hear of any criticism of my webcomic!

Update
To remedy this we uploaded all linked strips and embedded images to imgur. Recently, we noticed that the embedded images have been removed. Since we have never had this problem with imgur before it is safe to assume that its creator reported the images. Luckily, this was just before we moved sites anyway and now all images are uploaded directly to the wiki.
For a moment we considered first linking everything to the site again (since it is the old BWW that is being redirected) just to see how long it would have taken before we were blocked again, but decided that we were too lazy for that.
However butthurt the author might have been over our criticisms, he did not disregard them. When we last looked over the archives, he deleted some strips and modified others. I guess he realized that we were right.

Additional Update
Forum member Skunkbrains has just pointed out these rules on what not to post on this webcomic's forum:
Admittedly the review did attack Sandra and Woo's main characters harshly, so Novil presumably got that upset over it. Thin-skinned, aren't we?
At first I put this in the "Irregular" section, but on second thought, it belongs here.
"A page dedicated to hating me"... Don't think so highly of yourself. We don't know who you even are.
After seeing the original version of the article for his comic, 'Skull Boy' creator William J. Gregory decided to take a hiatus on updating, and send BWW member Mediocrity this message;
Click for the message

Surprisingly eloquent for someone who created a VGCats fancomic full of dead baby jokes.
UPDATE:
A few months later, William rebooted his comic again. And by "rebooted", we mean "continued without improving a single thing. Only now on the SNAFU site". After joining the illustrious company of Bleedman and Donald Wayne Lozen, he saw this thread. He then sent us yet another whiny note.
Click for more bitching

Can't wait for the next one.
Tom Preston briefly mentioned us in a journal.
"The few reviews that exist of my various web comics tend to be pretty negative. It's very apparent that the writers tend to be aware of my "history" and either cited stuff about me that has no bearing on the comics themselves, or tried to nitpick but ended up failing (i'm looking at you badwebcomics.wikidot.com for citing copy/paste but referenced an image which wasn't copy/pasted as your example)"

Thank you, Tom, for helping settle a long debate about that picture. A replacement has already been found and it took all of five seconds to find it. Also, I think you are confusing "nitpicking" with "pointing out glaring flaws".
Chris Crosby did not respond to our review of his comic Sore Thumbs. But a few months later, when we made a new thread to consider reviews for other works by the Crosby Brothers, he showed up to do what had to be the most failed attempt at defending one's self in the history of the internet.
Here are some of the things he had to say:
Click to read

After admitting that his comic is bad and that he's doing it all for money, and laying out his brothers insane aspirations, he topped everything off by smugly offering us to make a comic, which he will graciously allow to be hosted on his site, and left.
You can read the rest here.
We are still waiting for Bobby Crosby to show up.

I found this tweet by Max West about the review: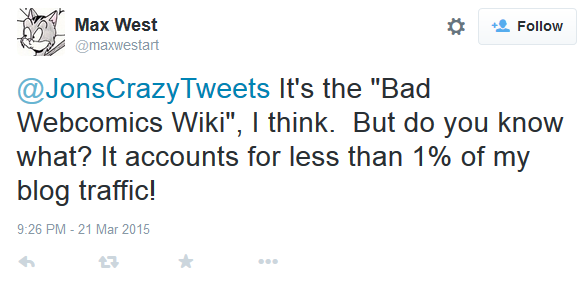 Which is funny because...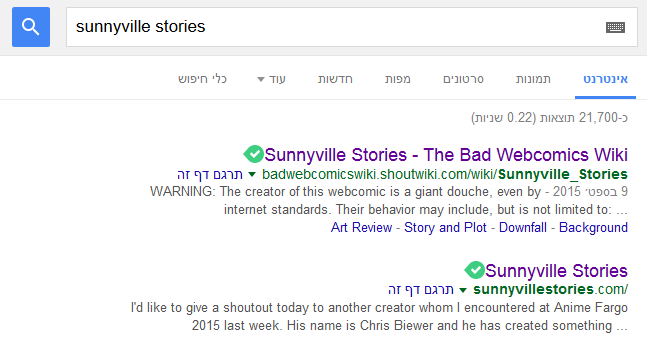 When you look up his comic, our review of it comes up before the actual site.
If there is any truth in what he says it probably has more to do with the fact no one cares about his comic.
This was pretty much the girls' response
Soon after its inception "Teacher's Pet" was being hailed as one of the worst webcomics ever created. It lasted for a few miserable years before being deleted (probably as a result of all the negative criticism it was getting).
We discovered this comic soon after it began gaining attention and a thread was made to discuss the possibility of writing a review. Even before a decision could be made, the two girls who were making the comic saw fit to write a long blog post about our unsolicited advice.
Get your tissues ready
Listen girls, I know that you have long since deleted that little trash heap that you called a comic, but if you ever stumble upon this page, I want you to know that if you indeed tried your best, then we appreciate that. But your best was not nearly good enough. Not by any standard. You can't possibly not see that.
I would like to say something nice and reassuring to you because you seem like nice girls, but I honestly can't. Your comic was bad beyond measure. It wasn't even at the point where its quality was somewhat debatable. If it had, I might have been able to understand your righteous indignation over being criticized. But, for someone who made something so utterly horrible, you really have a lot of nerve complaining when someone calls you out on it. Especially when a review was not even written and you went looking for responses to your comic on your own accord.
People who make something bad might have some right to contest the criticism they receive, but people who make something irredeemable need to take criticism in stride and learn to shut the fuck up.
Considering the dubious quality of the webcomic, then it surprised no-one that the cartoonist's angry and bitter response to learning of the review was just as lackluster and pathetic. Behold:

























One gets the impression from this, that the cartoonist - despite clearly being a physical adult - likely has the mental capacity of something... less than that.

Sean "Shin-Goji" McGuinness (or someone claiming to be him) added a section to his review titled "Legacy" with his reaction in it where he talks about himself in the third person like he's retarded and then takes the "Romantically Apocalyptic" line of response and says we are only making fun of his shit comic because we are racists who hate feminism.
It is as a hilarious cop-out as it is a pathetic one. Enjoy the read.
He's gonna squish us like a bunch of Japanese businessmen!
When the author of this abomination noticed the traffic coming to his site from us, he contacted the review's writer to leave him a "thank you note"...


Smugness oozing out of every pore


Still not satisfied, he opted to make sure he wasn't left with any dignity which might have been left over if someone mistook his replies for a genuine "thank you" note. So he created for us our first ever video response. Unfortunately, it was removed before any one of us could save it/watch it/make fun of it. All we know now is that it was titled "nosuchthingasbadpress".

So to you, my dear "Dumok", I say:
Enjoy your pageviews. Enjoy the flood of people that have rushed to your website just to see how awful you and your comics are. Enjoy your momentary "popularity" comprised of people who laugh at you. And remember: Every hit is worth one internet dollar! And if you get enough of them, you can buy the fuck we don't give.
After the month-long lol-cow milking session, that was the cartoonist bitching on the forum that we were all racist white people for not liking his comic, he fired off this gem upon the publishing of the final review:
"So far it's not really that bad. It's just a very specialized review from a white supremacist perspective. It actually reads like a parody skit. It's fun."
You can practically taste the tears he had to hold back in typing that. Clearly, truly, anyone who doesn't like or agree with his comics is obviously a white supremacist. Can't be the cartoonist who's a jackass, nope, not at all... right?
He also put up this comic which seems to be a very poorly veiled jab at this wiki and its community:
Lets see: Strawman versions of the critique he got on the forum thread? Check. Making his 'critic' out to look like a complete idiot and racist? Check. His usual "give me gibs" slogan up on display? check? Wall of text you don't really want to read? Check and check.
Verdict: Of all the wonderful flavors of the African-American kitchen, Rasheed has chosen to be salty.

UPDATE 1: Rasheed ultimately got banned from the forum after he made death threats against forum member Webkilla. Even if he were doing it in jest, that crossed the line.
UPDATE 2: In a supreme act of saltiness, rashit posted a comic where he made the BWW community out to be a bunch of white racists that banned him for being black. Lets have a look:
Megan Rose Gedris reacts to finding her article
Some time ago we had a review up on this site about a comic called "YU+ME: Dream". After it was made we got a complaints from a couple of its fans that the review was poorly written and probably done by a disgruntled fan who was unhappy with the direction the plot was taking. After further inspection we realized they were probably right. The article was indeed pretty bad, focused on a single flaw and the the comic itself may have not deserved a review in the first place (although I am beginning to doubt that after having to look at it in search of a picture to put up here). And so, the page was subsequently deleted.
But not before the author could comment about it with a childish response.

Click To Read

So whoever is making this comic should probably thank her fans. They are obviously smarter than her.
Grave of the Unknown Whiner
Over the course of running this wiki I have repeatedly come across various complaints about our wiki across the web, as well as private messages sent to our members or left on our forum, saying that our reviews somehow ruined someone's life or made them delete their comic and quit art forever.
I do not know who these people are, which comic is theirs, how many of them are there or if indeed these are all complaints made by the same person who find it necessary to bitch about us on every single webcomic related forum he can find. Nonetheless, I have added this mention to this page to honor their futile efforts and trashed comics.
---